1.1 Basics
Participation activities
In a zyBook, a participation activity (PA) is an activity used in the initial learning of a topic. A PA is a more engaging way of reading. As one student put it, "It's like the material is working with me, rather than talking to me." Anyone can get all PA points just by participating (hence the name).
PA's are labeled and numbered as: "Participation Activity 1.1.1″. A zyBook records student completion of each PA. An instructor may provide course points for completing PA's. Completing means:
Learning questions: Eventually entering a correct answer.
Animations: Watching all steps in their entirety.
Tools: Interacting with the tool; some tools require reaching "done".
Learning questions have no penalty if a student answers wrong the first time (or multiple times) or if a student shows themselves the answer.
Some answers involve typing text like x + 1 or a number like 20. The tool that checks correctness uses text matching (rather than expression evaluation) to enable convenient use on various platforms with varying Internet access. Supporting all possible (non-standard) answers isn't usually practical. Following instructions carefully helps. If a student thinks an answer is correct but isn't being accepted, the student can just click "Show answer".
PARTICIPATION ACTIVITY
1.1.1: Participation activities.
1)
A small point deduction applies if a participation activity's question is not answered correctly the first time.
True
False
2)
Clicking "Show answer" means no points can later be gained for this question.
True
False
3)
When a participation activity's question is answered, an explanation appears. Such explanations can usually be skipped.
True
False
4)
Answering a question, even incorrectly, counts as completing the question.
True
False
5)
Animations can be completed by clicking on each step, but not necessarily watching each step entirely.
True
False
Extremely fast clicking through activities, always clicking "Show answer" before answering, or first typing bogus answers, are easily detectable. Most students really try the activities, which are designed to help. Feedback is excellent, and research shows students learn from such activities (research summaries). About 90% of students earnestly attempt the PA's, realizing PA's are effective and respect student time (SIGCSE 2017 paper).
Viewing PA completion in a section
PA completion can be viewed by the filled-in icons next to each activity.
Figure 1.1.1: PA completion icons filling in as learning questions are correctly answered.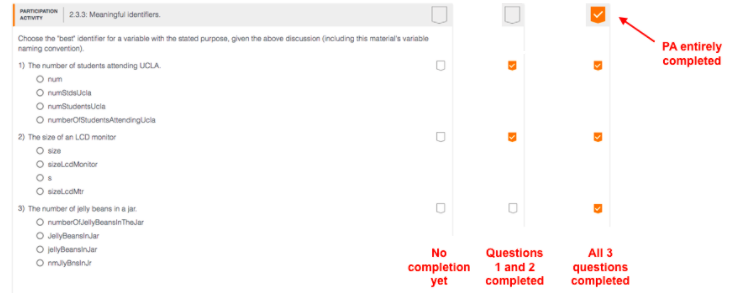 Feedback?
Figure 1.1.2: PA completion icon filling in as an animation's steps are watched entirely.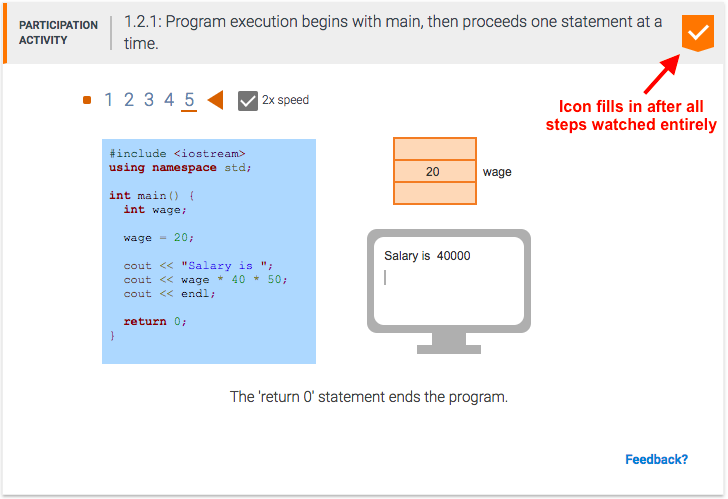 Feedback?
Viewing PA completion for entire sections
Students can also check section-level activity completion status at a zyBook's "Home/TOC", which is accessed from within a zyBook by clicking the zyBook's name at the top.
If you are completing zyBook activities in another browser tab, you may have to reload the Home/TOC page to see updated activity completion.
Figure 1.1.3: Checking section activity completion on a zyBook's Home/TOC page.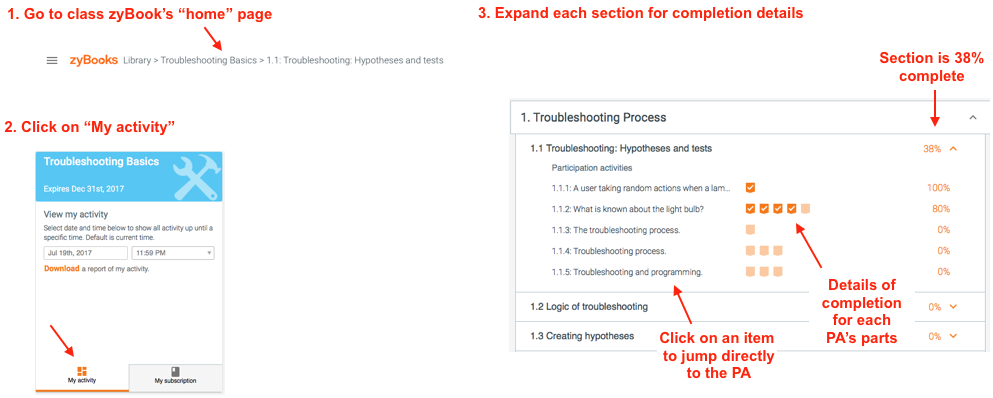 Feedback?
PARTICIPATION ACTIVITY
1.1.2: PA completion.
1)
A student's section-level activity completion data can be found by _____ .clicking on the zyBook's name at the top to go to the zyBook's "Home".clicking on the student's name
2)
If the activity completion does not appear updated, then _____ ."refreshing" the page may helpsend email to support@zybooks.com
3)
Within a section, a student can quickly detect if an activity is not fully completed by _____ .looking for unfilled icons next to each activitycontacting support
Feedback?
Returning to a section: Previous answers intentionally aren't shown
When a student leaves and then returns to a section, the system intentionally does not show previous answers to learning questions. That way, students can redo a section to help better learn the material. Research shows that approach is better for learning (one article discussing such research).
The completion icons on the side remain filled in, though, so students can know what PA's have already been completed.
PARTICIPATION ACTIVITY
1.1.3: zyBook question answers.
1)
If a student returns to a section and notices all previous answers are missing, then _____ .the zyBook system must be brokenwaiting long enough should cause the answers to appearthis is normalFeedback?
Feedback
Use the "Feedback" links throughout the material to let us know what was helpful and what could be improved. The feedback links appear throughout the material; if one doesn't exist for an item you'd like to report on, just find the closest one and explain what item you're referring to. Our authoring team reviews such feedback a couple times each year, which helps guide updates/improvements to the material.
Errors: While all material goes through a review process, if you find an error, please let us know by selecting "My feedback describes a possible content or technical error" when submitting feedback. Your feedback then goes straight to our support team as a "support ticket". The team typically responds within a day (usually in less than an hour, especially during California working hours), and often fixes issues in the live zyBook right away.
Figure 1.1.4: Feedback buttons appear throughout the material.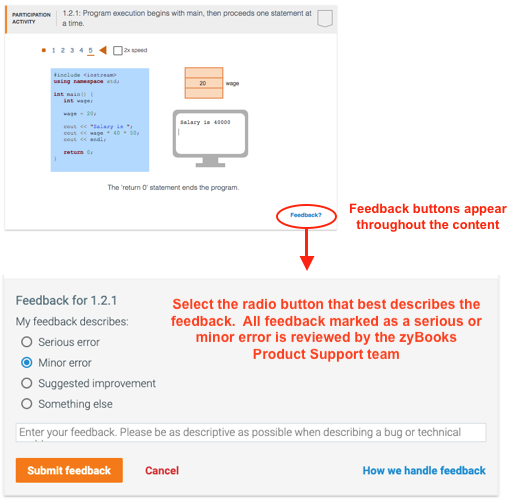 Feedback?
PARTICIPATION ACTIVITY
1.1.4: zyBook activity feedback.
1)
Our team requests that you make extensive use of the _____ link to tell us what you liked and what could be improved.
Answer
Feedback
We regularly examine student feedback. Low-rated items get redesigned. Suggested improvements are commonly incorporated.
2)
Selecting "My feedback describes a possible content or technical _____" within the feedback form causes the support team to be immediately notified.
Answer
error
The team responds quickly, and fixes issues often in less than a day. (Of course, we do our own extensive quality checks, but …
Describing an actual bug like "A small insect" or even "An error in a program", and then selecting "My comments describe a bug", is a funny joke. (Answer true or false).
Answer
true
Indeed it is funny! And we love a good joke. But, we have hundreds of thousands of users, so as you might imagine, we get this joke a lot. Could you help us keep our support ticket system focused on real issues, and keep this joke among your friends? Thanks!